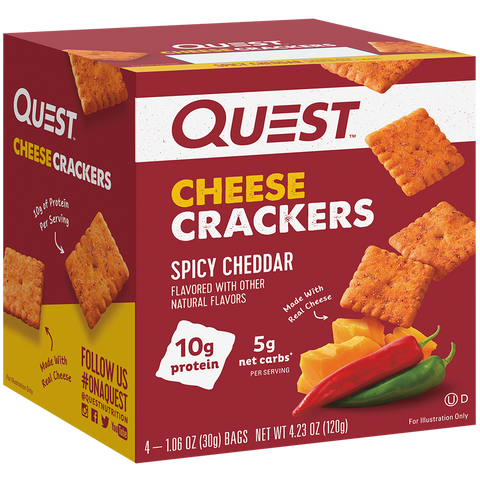 Cheese Crackers
Spicy Cheddar Cheese Crackers
Quest™ Spicy Cheddar Cheese Crackers are the cheesy, spicy way to snack without piling on the net carbs. These savory and delicious protein crackers are bursting with real cheese flavor and have the kind of kick you crave. Try the spicy, cheesy snack cracker that's got 10g of protein and 5g of net carbs per serving. Cheesy nutrition with a kick!
SNACKS WITH A PURPOSE. Quest Cheese Crackers provide all the crunch and satisfying taste you are looking for in a cheese cracker, but ours also have 10g of protein and 5g of net carbs per serving.
SALTY, SAVORY, CRUNCHY. A crunchy cracker that's been seasoned to perfection.
CRACKERS THAT TRAVEL WITH YOU. Take them with you in your backpack, purse, car console, gym bag or wherever your adventures take you.
CRUNCH INTO PROTEIN. Quest Cheese Crackers are a good source of protein and made with dairy-based proteins.
SERVING SIZE. Box contains 4 1.06 oz bags.
IT'S WAY BIGGER than a cracker. It's a Quest. Delight in truly satisfying flavors and athlete-worthy nutrition.
The ZIP Code you entered was not found.
Please try again.
How FAST will I receive my Order?
Order by:
5pm
— Receive it
*
---
Shipping to another address?
QST-014002-1
Returns:
Unsatisfied with this item? Contact us directly and we'll make it right!!