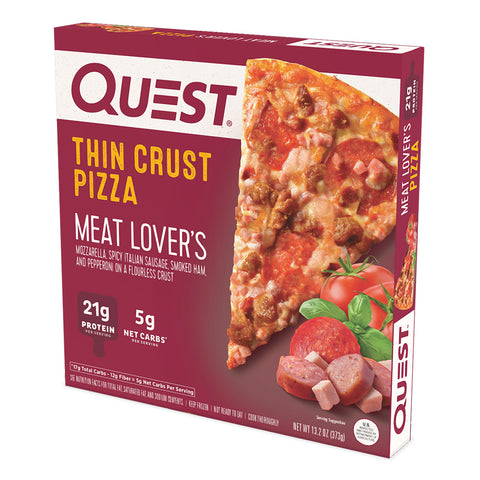 Pizza is always the right choice when you choose a pie that tastes great but isn't packed with net carbs. Quest® Thin Crust Pizza has a crust that's rich in protein but has just 5-6 grams of net carbs per serving. Quest pizzas have 20-28 grams of protein and are also a delicious source of fiber. It's way bigger than a pizza. It's a Quest!

Quest Pizzas are only available at retail locations. Please use our Store Locator to find our pizza in the frozen section at a retailer near you.
103279
How are Quest® Thin Crust Pizzas different from other frozen pizzas?


Unlike other pizzas, Quest® Thin Crust Pizza has a special crust, made with a dairy protein base. We've essentially swapped the carbs typically found in pizza crust with protein. As a result, it's a high protein, low net carb pizza that doesn't compromise on taste!

How do I prepare a Quest® Thin Crust frozen pizza?


Preheat oven to 400 degrees Fahrenheit. Keep pizza frozen during preheat. Remove pizza from the box, discard the freshness wrap and cardboard tray. Place frozen pizza on a baking sheet and bake for 19-22 minutes, or until cheese is completely melted and starting to brown. Take pizza out of the oven. Let stand for 3 minutes before enjoying! For a crispier crust, follow the same instructions, but place frozen pizza directly on the middle wire rack.

For food safety and quality, pizza must be cooked thoroughly to 165 degrees Fahrenheit. Do not allow pizza to thaw. Do not eat pizza without cooking. Pizza is done when crust bottom is golden brown and cheese is melted and starting to brown.

As ovens may vary, cooking times may need to be adjusted.

Are your products allergen-free?


Quest® Thin Crust Pizzas are made with dairy/milk. Dairy is the only allergen used in production for this product. The product is soy and nut-free. Our Quest® pizza is processed in a facility that also processes egg, fish, milk, tree nut, peanuts, shellfish, soy and wheat.

Do you use sugar in your pizza sauce?


There is no added sugar in our Quest® Thin Crust pizzas. All sugar in the product comes from the natural properties of the ingredients used.

Where can I find Quest® Thin Crust Pizza?


4-Cheese and Uncured Pepperoni are available at most Target stores nationwide, excluding Alaska and Hawaii. Supreme can be found at select Target stores. Target does not have store locations in Puerto Rico or Guam.