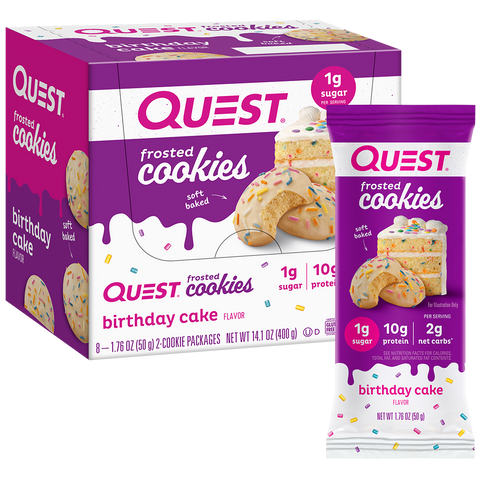 Frosted Cookies
Frosted Cookies Birthday Cake Twin Pack
Get double the Big taste and athlete-worthy nutrition of soft and chewy Quest™ Frosted Cookies with twin packs. The indulgent tastes of Chocolate Cake or Birthday Cake - in a cookie. Quest Frosted Cookies satisfy your hunger with 5g of protein, and your sweet tooth, with less than 1g of sugar and 1g of net carbs. Keto-friendly.
The ZIP Code you entered was not found.
Please try again.
How FAST will I receive my Order?
Order by:
5pm
— Receive it
*
---
Shipping to another address?
QST-012190-1
Returns:
Unsatisfied with this item? Contact us directly and we'll make it right!!